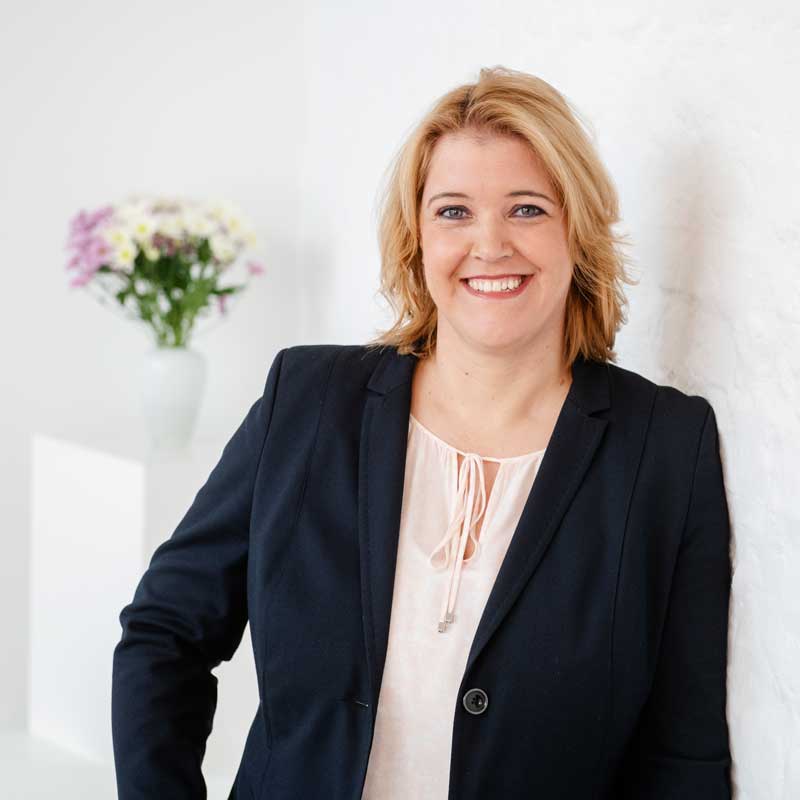 Specialization & offer
Leadership & executive coaching

New in a management position
Healthy leadership
Conflicts in teams

Mediation (conflict management)

Business Mediation
Social mediation (separation, inheritance, neighbor disputes, relationship problems, etc.)

Health coaching

Stress prevention
Burnout accompaniment
Reintegration

Team coaching
Employee development (training & coaching)
Personal coaching:
Languages: German, English
My philosophy is to support people in overcoming the stumbling blocks of life in both private and professional contexts and to emerge from them strengthened and self-confident, as well as to look to the future without fear.
As a systemic personal, business and team coach, mediator and stress management consultant, I have been accompanying and supporting people in their personal and professional development for over 20 years.
In my role as a major loss expert, I have experienced first-hand the changes and new challenges people are facing as a result of digitalization, globalization, new workplace concepts, and especially the Corona pandemic.
Good stress prevention and stress management are just as important here as proactively dealing with change.
The development and promotion of each individual worker individually and as part of a team, also from a health perspective, is becoming increasingly important.
I am happy to accompany you, your managers, your employees and teams in the challenges you face. Through a high degree of individuality, my experience with corporate structures and the ability to analyze your corporate culture, I will help you to move forward in the best possible way. Through a high degree of individuality, empathy and motivation, I am able to support you in finding the right path for you.
Business coaching of executives and specialists
New to a leadership position, employee development, women in leadership, demeanor, dealing with change, conflict resolution, communication.
Mediation
Conflict resolution through mediation in the professional and private environment
Personal and career coaching
Dealing with change, conflict resolution, crisis management, strengthening strengths, coping with grief, goal and decision making, personality development, work life balance, burnout prevention, support during an illness, professional reorientation.
Team development in companies
Team coaching: improvement of cooperation, increase in productivity, feedback culture, understanding of leadership, training on various topics
Energy work
Support for change, support for the healing process in the case of health complaints and support for the development of one's own potential
Systemic Personal & Business Coach (380 h)
Coaching Academy Berlin, (ECA certified*)
Systemic Team Coach / Team Development (95 h)
Coaching Academy Berlin, (ECA certified*)
Mediator (150h) – legally certified
Peace Education Center (BM certified)
Insurance graduate
Instructor
Various certificates in the field of energy work
Life experience
*certified by the European Coaching Association
2020 – today
2017 – today
Systemic Business, Team & personal coach
2004 – today
Major claims adjuster and insurance trainer
Training and management of teams
Projects: national and international
Industries: Banking and Financial Services, Insurance, Retail, Steel and Automotive, Logistics, Pharmaceuticals, Media
International: worldwide
1994 – today
Energy work/ work with people
Dear Corinna, thank you again for the open and helpful coaching. You made me feel like you were genuinely interested in my issue and wanted to help me. This coupled with your very calm and empathetic manner gave me a sense of security and confidence. The coaching has lingered and kept me busy for a long time. I now realize that a process of change has begun, which really pleases me. Thanks again for that.
Hello Mrs. Enners, you asked the right questions in a sensitive and insightful way and made me think a lot. This allowed me to change my perspective and look at my subject in a different way. That helped me a lot.
Dear Corinna, through your considerate and understanding way, you catch the client even with difficult issues totally gently. In my eyes you possess an extraordinary empathy, which you express very authentically through sincere sympathy. This also allows you to emotionally guide the client through the entire process in a very caring way, loosening it up at the perfect points with a laugh.